More than thirty companies became RAMPLO dealers all over the world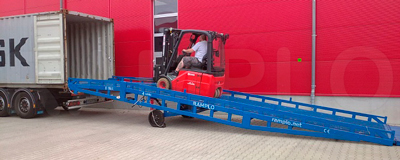 Every year we increase the number of our official dealers throughout the world.
Our company is a producer of warehouse equipment RAMPLO. We produce mobile ramps, stationary ramps and other equipment, which are used in warehouses and plants.
RAMPLO equipment has established itself as a high quality, reliable and safe products. It is indispensable when it is needed to load and unload goods using a forklift or other warehouse equipment.
More than thirty companies throughout the world became our official dealers. Equipment can be bought directly from our representatives in Germany, Austria, Poland, Romania, the Czech Republic, Hungary, Slovakia, Slovenia and other countries. This indicates a high level of trust in the RAMPLO brand.
We are always ready to expand our dealer network and are open to cooperation. In order to become a RAMPLO dealer, you need to write to us by e-mail, indicating the key data about your company and region.
By becoming a representative of RAMPLO, you can increase the range of reliable and useful products proposed for clients, offer better service for your end-customers and of course gain profit be sure in its quality and reliability.