Mobile ramp RAMPLO (custom request)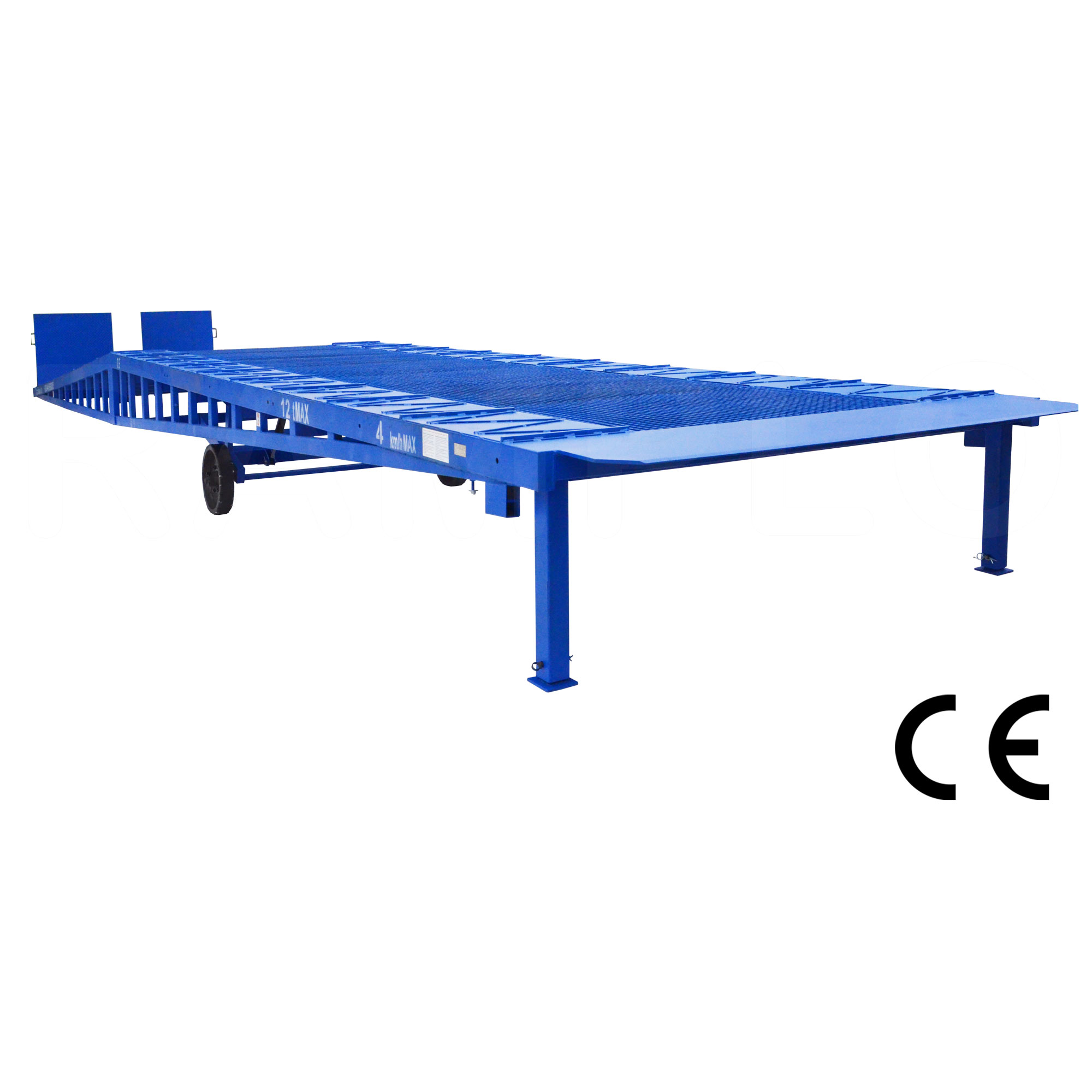 Features of the mobile ramps RAMPLO, which can be amended upon customer's request:
1. Load capacity - from 6 to 30 tones and more.

2. Total length - in case of special needs up to 15 meters and more.

3. Overall width - up to 2515 mm and more.

4. Height of protective fencing - minimum 0 mm, maximum 1100 mm.

5. Heights' level - min and max heights, the working range of hydraulics no more than 80 cm. For example, the minimum height is 750 mm, maximum (in this case) - 1550 mm.

6. Color, additional markin.

7. Extra wheels' pair.

8. Option equipping with an electric pump.

9. Galvanization of the ramp's roadway with additional anti-slip properties.

10. Mounted tent over a ramp.

11. A set of additional supporting legs (for increased stability).
The products RAMPLO are represented not only standard models. Our company can manufacture individual orders taking all customer requirements.
Along with standard ramps, we design and produce ramps with individual sizes and characteristics. With more than 10 years of expertise, our engineers and designers have been developing mobile ramps of any complexity and load capacity.
The advantages of mobile ramps RAMPLO:
1. Steel grating on the ramp's roadway instead of expanded metal sheets.;
2. Thanks to the frame, made of pipes, the ramp is light, fast to lift, and highly maneuverable;
3. The height of the ramp is regulated by hydraulics. Our ramps are equipped with a reliable manual hydraulic system using modern pumping stations made in Italy. This allows significantly reduce time and efforts to lift the ramp up to the maximum height. Unlike manufacturers that use mechanical legs, hydraulics provides smooth lifting and sinking of the ramp, as well as constant tracking of the current height level of the truck body during operation;
4. The wheels are made of cast rubber with a diameter of 500mm. The main advantage of our wheels is that the contact place of the wheel with the ground is much larger, respectively, the load on the surface is less. Besides, such wheels are resistant to punctures;
5. The width of the ramp's roadway is 2000mm. Such a width allows a forklift to load/ unload the left and right rows of pallets into/ out the truck directly from the ramp;
6. The additional fixing with safety chains. The chains prevent the ramp and a vehicle being unlinked when used;
7. A linking coupling for a forklift installed on the ramp allows quick maneuvering with the ramp even in a very restricted area;
8. Folding bridges provide uniform load distribution while entering the ramp on a forklift.
Additional options for mobile ramp RAMPLO:
Safety legs adjustable in height,
installed on ramp
-2SL

Additional protective hand railings,
1100mm height, mountable
-HR

Electric hydraulic station
instead of manual
-EHP

Electric hydraulic station
and manual pump
-EHMP

Three-sided unloading mobile ramp.
Supplied with safety legs
-2SL3SW
Additional pair of wheels
-4WL

Zinc-coated anti-skid grating
(I-1000+H)*D instead of regular
-ZSRS

Zinc-coated grating
(I-1000+H)*D instead of regular
-ZRS

Anti-skid grating
(I-1000+H)*D instead of regular
-SRS

Tent cover over the ramp
(I-1000+H)*O, mountable
-TC

Choosing a different color
(standard color is blue)
-CLR
---
RAMPLO presentation.pdf
---